Key issues in the Celtic Sea project area
The project area is under increasing demand for finite marine resources and space (see map below), and there is a growing necessity to balance the needs of different sectors and conservation. Emerging activities, such as offshore wind farm development, alongside increased demands for marine sand and gravel, and growing marine transport, tourism and leisure activity, mariculture (cultivation of marine organisms) and fishing are the main forces driving these demands. There is also potential for oil and gas extraction to expand significantly.
Map of part of the Celtic Sea showing some of the marine activities taking place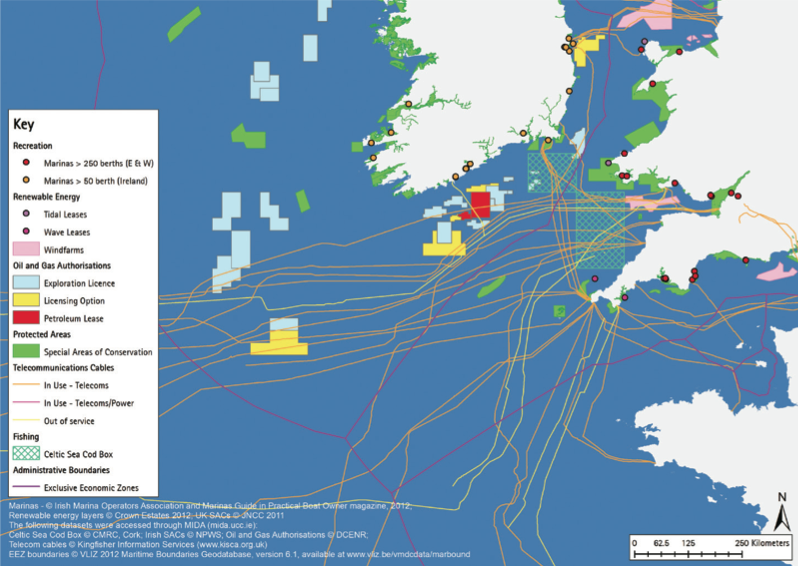 This map is for illustrative purposes only and does not represent a comprehensive depiction of all marine activities in the Celtic Sea. It was produced as part of the PISCES project as a means to collate information on geographical features of relevance (e.g. administrative borders and marine activities) to help inform discussion on implications for the ecosystem approach.
The growing demand for marine resources and space is placing increasing pressure on the ecosystem. The impact of this is not yet fully understood. In 2010, OSPAR produced a comprehensive overview of the environmental status across the north-east Atlantic, including the project areaxi. It recommended three priorities in the region: coordinated marine spatial planning, reduction of marine litter, and sustainable fishing.