5. Implementing the ecosystem approach
The Celtic Sea project area
The Celtic Sea project area includes waters off the coasts of south-west England, south-west Wales, southern Ireland, and Brittany in north-west France (see map below). The boundaries are based on the International Council for the Exploration of the Seas (ICES) areas and broadly coincide with the southern portion of the MSFD Celtic Seas sub-region (it does not include waters off western Scotland, western Ireland and the Irish Sea). The Celtic Seas sub-region does not include Brittany, though at the time of publication the boundaries were still being finalised.
Map showing the geographic scope of PISCES Celtic Sea project area, in relation to Marine Strategy Framework Directive sub-regions, OSPAR regions and territorial waters (EEZs)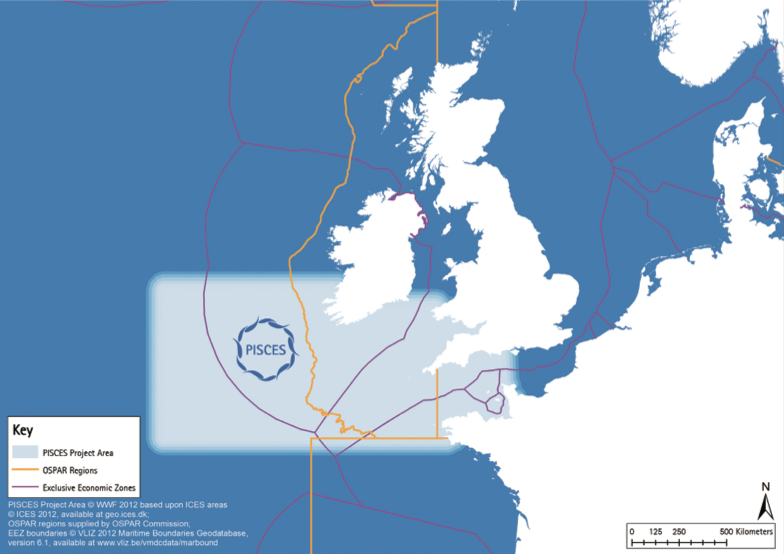 Implementation of the MSFD
Implementation of the MSFD in the project area will be part of the wider Celtic Seas sub-region and will be shared by the UK, France and Ireland, each of which will need to produce marine strategies for the waters under their jurisdiction in coordination with each other. For the purposes of PISCES, the relevant government agencies (competent authorities) for the project area are:
Department for the Environment, Food & Rural Affairs (Defra) and the Welsh Government (UK)
Department of the Environment, Community and Local Government (Ireland)
Ministry of Ecology, Sustainable Development and Energy (France)
A number of other countries have commercial interests in the project area, including international fishing fleets (Spain, Denmark, Germany, Netherlands and others). These and other important stakeholders will need to be involved in the development of marine strategies by the UK, Ireland and France.

The OSPAR Convention (OSPAR), the regional sea convention guiding international cooperation on the protection of the marine environment of the north-east Atlantic, is the legal instrument through which the MSFD will be coordinated in the project area. Work under OSPAR is managed by the OSPAR Commission, made up of representatives of the governments of 15 contracting parties and the EC.
"The main concern is that the way planning varies across jurisdictions and between actors may result in variant approaches across borders. At an EU scale this is a challenge." (Aggregates sector)